Barrigada, Guam Real Estate, Village of Barrigada, Guam, Real Estate in Barrigada, Guam, Land for Sale Barrigada, Guam, Homes for Sale, Barrigada, Guam
Barrigada, Guam Real Estate – Quaint Cozy Suburb in Central Guam
The Village of Barrigada is located towards the center of the island, traversed by Route 8, Route 10 and Route 16. It has a total estimated population of around 7,956.
Considered a quaint cozy suburb, the main village of Barrigada is mostly residential with many small businesses dotting the main highways. Its terrain features many small rolling hills, colorful tropical flowers, deep green foliage and home sites with peaceful intimate settings. The main village, situated just south of Antonio B. Wonpat International Airport,is a highly desirable place to live.
Tiyan, Barrigada, formerly Naval Air Station Agana, is now home to the Antonio B. Wonpat International Airport, Tiyan High School, Guam Department of Education and Guam Environmental Protection Agency. It is also home to the U.S. Post Office Guam Main Facility, the Federal Aviation Administration, National Weather Service, as well as several airline, air cargo and airport related businesses.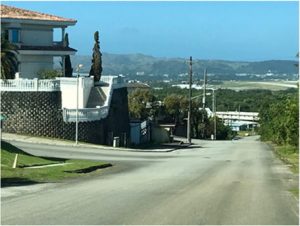 Radio Barrigada, another part of the village formerly under U.S. military control, is an area with lots of potential. The landscape is lush and many large tracts of land are waiting for developers and investors.
Barrigada Heights, perched atop Mount Barrigada, is situated towards the east end of the airport. This upscale neighborhood features many chic, contemporary, palatial homes, many with sweeping views of the central hills, Guam's western coastline with Tiyan, Tamuning and Tumon below or the rugged east coast from the east part of the mountain.
Living in Barrigada you'll have easy access to both ends of the island and you will be conveniently located in central Guam.
Barrigada is a great place to buy a home, build a home or develop a new residential subdivision.
Whether you are a serious investor or you are looking for a convenient central location with character, let us at Pacific Rim Realty help you achieve your real estate goals.
Scroll through all the property listings in Barrigada. If you have an inquiry, please use the contact form below and we will get back to you shortly. Your privacy is important to us. Your information will not be shared, sold or exchanged with anyone else.
PROPERTY LISTINGS IN BARRIGADA
All properties are subject to prior sale, exchange or withdrawal. Neither listing broker(s) nor displaying broker, nor the GUAM ASSOCIATION OF REALTORS, INC. Multiple Listing Service shall be responsible for any typographical errors, misinformation, or misprints. Copyright 2020 GUAM ASSOCIATION OF REALTORS, INC. Multiple Listing Service. All rights reserved.
---