Chalan Pago, Guam Real Estate, Village of Chalan Pago, Guam, Real Estate in Chalan Pago, Guam, Land for Sale Chalan Pago, Guam, Homes for Sale Chalan Pago, Guam, Properties in Chalan Pago, Guam
Central Chalan Pago – The Old Trail from Hagåtña to Pago Bay
The Village of Chalan Pago is located in the center of the island, traversed primarily by Route 4 and dissected by Route 10. Chalan Pago is part of the Municipality of Ordot-Chalan Pago. It has a population estimated to be around 7,064.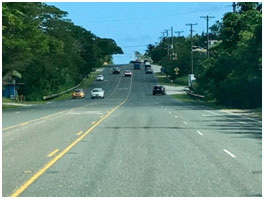 Today the old bull cart trail from Hagåtña to Pago Bay is now the main thoroughfare Route 4, running the center of the island from the west coast to the east coast. It certainly has come a long way.
Just minutes to Hagåtña, the main village of Chalan Pago is mostly residential with some businesses along Route 4. Properties here feature some sloping terrain with hills and valleys, and an abundance of rich green foliage and tropical jungle scenery, with home sites on level patches scattered in between. If you envy a secluded tropical island setting in an area close to town, then consider living in the central village of Chalan Pago.
On the east end of Chalan Pago sits Pago Bay, a popular sun-filled place on Guam's eastern coastline. Pago Bay Estates is a distinguished beach side community of homes. Pago Bay Resort is a newer subdivision on the bay. There are also many other scattered homes and home sites on the water or on the hillsides with majestic views of the Pacific Ocean.
In Chalan Pago, the landscape is lush and here you can discover unique homes and vacant lots.
Living in Chalan Pago you are conveniently close to town or just a hop skip down Route 4 to the south.
For the sports minded, the village also boasts a community baseball field and basketball court.
Chalan Pago is a great place to buy a home or build a new one.
If you are looking for a home or a unique site to build a home, let us at Pacific Rim Realty assist you with all your real estate needs.
Scroll through all the property listings in Ordot-Chalan Pago. If you have an inquiry, please use the contact form below and we will get back to you shortly. Your privacy is important to us. Your information will not be shared, sold or exchanged with anyone else.
PROPERTY LISTINGS IN ORDOT-CHALAN PAGO
All properties are subject to prior sale, exchange or withdrawal. Neither listing broker(s) nor displaying broker, nor the GUAM ASSOCIATION OF REALTORS, INC. Multiple Listing Service shall be responsible for any typographical errors, misinformation, or misprints. Copyright 2020 GUAM ASSOCIATION OF REALTORS, INC. Multiple Listing Service. All rights reserved.
---