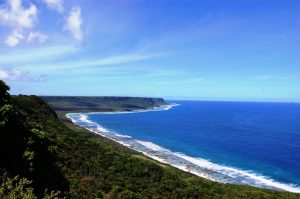 Yigo, Guam Real Estate, Village of Yigo, Guam, Real Estate in Yigo, Guam, Land for Sale Yigo, Guam, Homes for Sale Yigo, Guam
Yigo, Guam Real Estate – Northern Frontier Village of Yigo
Perched atop the northern coral plateau where the Pacific Ocean meets the Philippine Sea, Yigo is the largest village in the northernmost part of Guam, encompassing a 35 square mile area, with an estimated population of around 19,339. 
There are many things to do and explore in Yigo. For the adventurous, take a stroll down to Tarague Beach and Jinapsin Beach, just below Andersen Air Force Base northwest field. Although base access is restricted, for military ID card holders, you can experience pristine tropical landscape, untouched natural beauty and a treasure trove of archaeological cave drawings, limestone cliff, fresh water limestone cave, a variety of species of lush green vegetation and indigenous ifil hardwood.
Yigo also has a rich wartime history, as it is where the last battle of Guam took place during World War II before the island was liberated by the United States in 1944. You can visit the South Pacific War Memorial, where you can see several artifacts found on the Mt. Mataguac battlefield, as well as the Queen of Peace shrine. The Arc Light memorial on Andersen AFB is dedicated to the B-52 crew members who lost their lives in the Vietnam War. It features a jungle camouflage B-52 bomber on display.
Considered the last frontier in the north, Yigo has loads of potential for major growth and expansion, as it is an extension from the urban sprawl of neighboring Dededo. In the old days prior to World War II, Yigo was almost entirely rich farm land. Its soil supported the growth of pineapples, oranges, cocoa, tangerines, and coffee. Because cocoa would grow in Yigo, the village made delectable chocolates, which were then served to guests of the Governor's Palace in the capitol of Hagåtña. Today, while still made up of many large tracts of raw land, Yigo has a blossoming retail commercial town center through its main thoroughfare Marine Corps Drive, to complement its untapped potential of land resource.
A large portion of Yigo is home to Andersen Air Force Base, making Yigo real estate a popular choice for those in the U.S. Air Force seeking off base housing or civilians in support roles as it is close to work. Yigo is also home to the Guam Observatory and Starts Guam Golf Resort. 
The village is still very green and there is a lot of open land ripe for development. Throughout the land, Ifil trees can still be found and the village flower, the Plumeria, adds even more color to the terrain.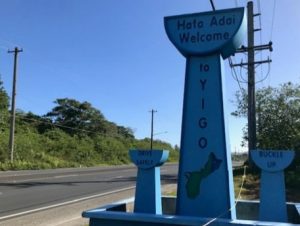 Yigo is mostly rural in nature and residential. Real estate here is primarily single-family homes with some town homes and condominiums. There are also many retail and commercial buildings along the main highways. Popular housing subdivisions include Pacific Latte Estates and Marianas Terrace, as well as Perez Acres town homes and Spring Hill subdivision. Newer housing developments in the village include Perez Villa, Starts Golf Villa & Estates, Paradise Meadows, among others.
If you are looking for that perfect home or lot to build a home, Pacific Rim Realty is ready to help you.
For serious investors, Yigo has many large tracts of land and is a prime area for continued residential development, as well as supporting retail and commercial projects in the coming years. 
Either way, let us at Pacific Rim Realty help you find the right property. We can assist you every step of the way.
Scroll through all the property listings in Yigo. If you have an inquiry, please use the contact form below and we will get back to you shortly. Your privacy is important to us. Your information will not be shared, sold or exchanged with anyone else.
PROPERTY LISTINGS IN YIGO
All properties are subject to prior sale, exchange or withdrawal. Neither listing broker(s) nor displaying broker, nor the GUAM ASSOCIATION OF REALTORS, INC. Multiple Listing Service shall be responsible for any typographical errors, misinformation, or misprints. Copyright 2020 GUAM ASSOCIATION OF REALTORS, INC. Multiple Listing Service. All rights reserved.
---