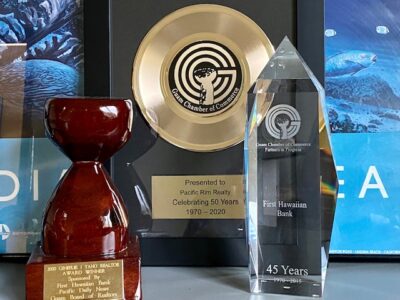 Pacific Rim Realty is a small family-orientated real estate company with over 50 years of combined experience in Guam's real estate industry. Our vast experience in brokerage sales, investment, and development cover numerous agricultural land subdivisions and clusters of single-family homes, multi-family dwellings including condominiums, apartments, and townhomes, as well as industrial, commercial, office-retail, beachfront, golf course and hotel-resort properties.
This second generation website design and expanded internet presence commemorates over 50 years of the family business in Guam real estate. What actually began in the late 1960's as a licensed real estate brokerage business became re-established in 1970 when the Government of Guam implemented new testing requirements for all real estate licensees. It was then, out of a packed auditorium, our founder was issued one of the original first 10 or so newly regulated real estate broker licenses on Guam.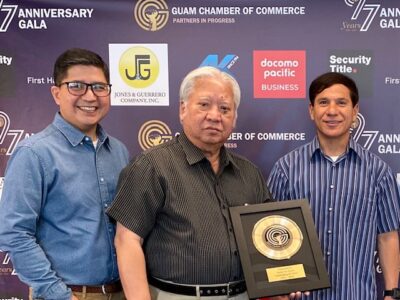 The government also began numbering the licenses at that time and broker license no. 8 was originally assigned. The business eventually incorporated, branded, rebranded, branched, and diversified into various segments of the real estate industry. Over the years, we remained steady and resilient through numerous natural disasters and economic downturns, and rock-solid and prosperous in the boom times. Having passed to the current generation, our vision continues to be committed to the long term.
Pacific Rim Realty is dedicated to providing the one-on-one personal service you desire. Whether you are an individual or you represent a large company or organization, we can guide and assist every client throughout the entire real estate transaction.
Our mission is to provide clients and customers a high level of experience, professionalism and expertise, backed by extensive market knowledge and vision, exemplary personal service, good old-fashioned hard work and dedication. Most importantly, as ambassadors for Christ, our hope is that during interactions with clients, customers and fellow colleagues, opportunities to share the Gospel arise, many are drawn onto Him, and lives are transformed.
Our goal is the continued development of long-term client and customer relationships. While we are modest and humble in nature, our reputation and track record speak for itself. The core of our business is based on recommendations and repeat business from satisfied clients and customers. So we purposely intend to be relational in our approach. You will notice this as you navigate through the site. And whether we cross paths for one transaction or we develop a long-term relationship, we hope our connection will have a heartfelt and meaningful impact that lasts.
Part of our goal is the continued growth of a broader field of prospective former Guam resident clients looking to sell, and bringing exciting new properties to market, thus becoming Guam's most reliable and widely used brokerage firm for off-island former residents.
So whether you are an experienced investor or first-time buyer, a large company or individual, whether you are looking to buy, sell or lease, we can help you every step of the way.
Whatever your Guam real estate needs may be, please take the time to explore our site and find out how we can assist you. We look forward to hearing from you.