Hagåtña, Guam Real Estate, Village of Hagåtña, Guam, Real Estate in Hagåtña, Guam, Land for Sale, Hagåtña, Guam, Commercial Buildings for Sale, Hagåtña, Guam, Office Space for Lease, Hagåtña, Guam, Properties in Hagåtña, Guam
Hagåtña, Guam Real Estate – The Historic Capitol City of Guam
Where nostalgic old world charm blends with a contemporary skyline, the historic capitol city of Hagåtña is a center point of the island where many government offices are located, including all three executive, legislative and judicial branches. Situated on Guam's western coastline, the historic Capitol City of Hagåtña has a population estimated to be around 943.
In Hagåtña, you will find the main branch of the Guam Public Library together with most government agencies, including the Governor's Complex, Guam Legislature, Department of Administration, Department of Education, Office of the Attorney General, Superior Court of Guam, U.S. District Court of Guam, among others. Hagåtña is also home to many private sector office buildings, as well as the main branches of Bank of Guam, Bank of Hawaii, Community First Guam Federal Credit Union, PenFed Credit Union and ANZ.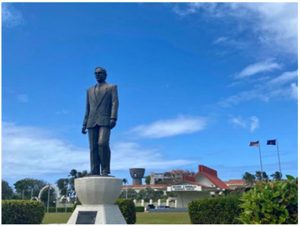 The Ricardo J. Bordallo Governor's Complex is home to the Latte of Freedom, a vision of the late Governor that symbolizes the Pacific doorway to America's freedom, representing the proud heritage of the Chamorro people and freedom for all. It serves as an observation deck standing 60-feet tall visible from incoming flights, with views of the western coastline. The Governor's Complex is also home to the Hall of Governors, a legacy of island leaders, where one can walk through some of Guam's political history.
Another way to explore the island's history in Hagåtñais at its world class museum, the Senator Antonio M. Palomo Guam Museum & Educational Facility. The struggle and resilience of the Chamorro people are on full display. Guam's history comes alive within this iconic structure, to be shared and renewed for generations to come.
There are many small dining establishments and coffee shops in Hagåtña, including Mosa's Joint, Tommy's Pizza Shoppe, Caliente, Kitchen Lingo, Linda's Coffee shop, as well as Tu Re' Café and Cup & Saucer Bakery & Crepe Café.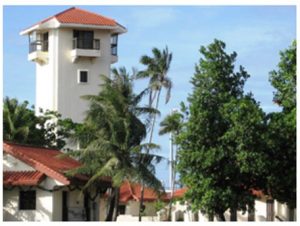 Located within the Paseo de Susana grounds is Chamorro Village, a favorite gathering place for locals and visitors alike. Here you can savor local cuisine, discover local arts and crafts, as well as enjoy cultural performances during the popular Wednesday Night Market.
Hagåtña is home to a small boat harbor, known as Hagåtña Boat Basin, where you can venture out deep sea fishing or enjoy a dolphin watching tour.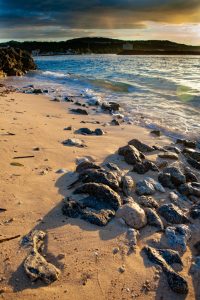 In Hagåtña, you can also find the Guam Heritage Walking Trail, also known as the Legacy Walk of Hagåtña, a 2.5 mile pathway through 17 historical sites, including Plaza de Espana, San Antonio Bridge, Chief Quipuha Park, Padre Palomo Park, U.S. Cemetery Fortification, the Cormoran Monument, among others. During the lower tides, you can also enjoy a sunset walk along Hagåtña Bay.
Real estate in Hagåtña is mostly retail, commercial and office spaces, as well as residential apartment and townhouse units and small beachfront condominiums. Just up San Ramon Hill is Agana Heights, where you can find many more residential homes, townhomes, condominiums and apartment units. Agana heights is a very convenient place to live if you work downtown in the capitol city of Hagåtña.
If you are looking to establish a new office, relocate your existing business or make a move to the downtown area, let us at Pacific Rim Realty help you with your real estate needs.
Scroll through all the property listings in Hagåtña and Agana Heights. If you have an inquiry, please use the contact form below and we will get back to you shortly. Your privacy is important to us. Your information will not be shared, sold or exchanged with anyone else.
PROPERTY LISTINGS IN HAGÅTÑA & AGANA HEIGHTS
All properties are subject to prior sale, exchange or withdrawal. Neither listing broker(s) nor displaying broker, nor the GUAM ASSOCIATION OF REALTORS, INC. Multiple Listing Service shall be responsible for any typographical errors, misinformation, or misprints. Copyright 2020 GUAM ASSOCIATION OF REALTORS, INC. Multiple Listing Service. All rights reserved.
---