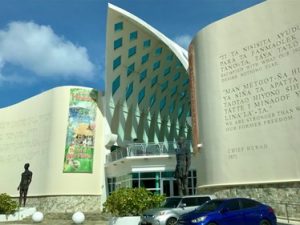 Guam's Rich History and Diverse Culture
Guam has a Rich History and Diverse Culture
HafaAdai and welcome to Guam! Guam is a melting pot of people. On the island you'll find 19 villages, each with a Mayor and Vice Mayor. In these villages there can be anywhere from 1,000 to 50,000 people coming from many different ethnic backgrounds. The majority of the population, around 37%, is made up of the native Chamorro, then you have Filipinos and Caucasians making up around 40% combined, with the remaining 27% made up of Japanese, Korean, Chinese and other Pacific Islanders.
Guam has a very interesting mixed and multilingual culture with very diverse backgrounds all coming together. English and Chamorro are the official languages of Guam, however other languages such as Japanese, Korean, Chinese, Filipino and other Micronesian island dialects can also be heard. Amidst this melting pot, the traditions and customs of Guam's proud island heritage, its language, dance, song, and storytelling are still very much alive today. The younger generations learn the traditional arts and language in order to preserve their cultural heritage and keep their history and tradition alive.
The island's rich history includes pre-contact original Chamorro culture; Ferdinand Magellan landing on Guam in 1521, marking the beginning of recorded history and first contact from the outside world; more Spanish missionaries and soldiers arriving in the 1600's, establishing Spanish Colonization for the next 300 years; Spain ceding Guam to the United States in 1898 as a result of the Spanish-American War; the Japanese Invasion of 1941 and subsequent rule for 3 years; the Recapture and Liberation of Guam by the United States in World War II in July 1944; and the periods of prosperity and rebuilding thereafter.
A great way to explore the island's rich history is at our world class museum, The Senator Antonio M. Palomo Guam Museum & Educational Facility. The struggle and resilience of the people of Guam are on full display for the world to see. Guam's history comes alive within this iconic structure, to be shared and renewed for generations to come.
This rich history and diverse culture makes Guam a true melting pot in so many ways. One of the most important events in Guam's history was the Liberation of Guam in World War II. Every year in July, the whole island, people from every culture and background, from the military, government, as well as social and civic organizations, come together to celebrate Liberation Day by participating in the annual Liberation Day Parade and month long carnival at the Paseo in DowntownHagåtña.
Another important time period in Guam history was the 300 year Spanish Rule. This was the origin of strong Spanish influence seen today in Guam's community, culture, architecture and family names.
The best way to meet the local people and experience the local culture and food are at the Fiestas. Fiestas are a tradition of celebration introduced by the Spaniards in the 1600's and almost every village has an annual fiesta. Church services honoring a patron saint and praising God on Saturday followed by party, feast and fun. All are welcome at these village fiestas where you can enjoy the sights and sounds of local culture while indulging in culinary treats like red rice, breadfruit, taro, barbecued ribs and chicken, pot roast, roast pig, lumpia, pancit, shrimp patties and chicken kelaguen, a shredded barbecued chicken dish mixed with grated coconut, lemon juice, onion and hot pepper. That whole weekend the village turns into a giant party with family, friends and visitors alike all joining in the festivities.
Other places you can enjoy local island culture and cuisine are at the I Sengsong Chamorro Village, featuring a variety of local foods and handicrafts in the capitol of Hagåtña and at Gef Pago Inalahan Cultural Village, a preservation of Chamorro heritage located in the village of Inarajan in southern Guam.
The Chamorro spirit of hospitality and giving value to the 'community' more than the 'individual' shows just how accommodating and friendly local people are. Anywhere you go on the island you are sure to be met with warm smiles making you feel right at home.
If you have an inquiry, please use the contact form below and we will get back to you shortly. Your privacy is important to us. Your information will not be shared, sold or exchanged with anyone else.