Dededo, Guam Real Estate, Village of Dededo, Guam, Real Estate in Dededo, Guam, Land for Sale Dededo, Guam, Homes for Sale Dededo, Guam, Properties in Dededo, Guam
Dededo, Guam Real Estate – Guam's Sprawling Northern Village
The village of Dededo, roughly a 30 square mile area, is the most populated of all the villages on Guam. Ritidian Point in Dededo is the most northern tip coral plateau dividing Dededo and Yigo on land. There are an estimated 44,908 residents who call Dededo home.
Dededo is home to Guam Regional Medical City, the island's newest hospital, and the military's new Marine Corps base. With several parcels being developed into more housing and retail commercial ventures, this northern village continues to expand.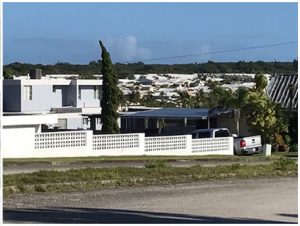 Dededo real estate is very attractive. This village is a beaming display of urban growth with numerous retail commercial and dining establishments as well as countless fully improved subdivisions. Affordable to moderate residential neighborhoods include Astumbo Gardens, Fern Terrace, Kaiser, Liguan Terrace, Harmon Court and Kurason Machanao. You can also opt to live in some other communities such as Y-Paopao Estates, Summer Palace Townhouses, Las Palmas Townhouses, Villa Rosario Condominiums or the popular Paradise Estates subdivision.
Whether you are an investor looking for land to develop or you're just looking for that perfect starter home or plot of land to build a new home, we at Pacific Rim Realty can show you everything this sprawling northern village has to offer. Search any of these subdivisions or complexes in the MLS Search.
If you want to get local produce, there's the new open-air Farmers Market featuring fresh fruits and vegetables. You can also find great bargains at the Dededo Flea Market. Modern shopping venues include the Dededo Mall, Compadres Mall, the islands first Cost-U-Less and Micronesia Mall, the largest mall in all of Micronesia.
Dededo is also home to numerous supermarkets, churches and schools, as well as two golf courses, the Guam International Country Club and Starts Guam Golf Resort, U.S. Naval Computer & Telecommunications Station (NCTS) and the new Marine base. It is also home to the Dededo Sports Complex, which hosted the 1999 South Pacific Games. This continuously expanding complex has numerous playing fields, a gymnasium with basketball courts and a community swimming pool.
Dededo features two pristine secluded beaches on the northwest coastline. Hilaan Beach, also known as Mushroom Beach, for the rock formations that look like mushrooms, and Haputo Beach, where there is a steep hiking trail and remains of an ancient Chamorro village. You will need a military identification card, as Haputo Beach is located on military land, accessed through Naval Communications Station (NCTAMS). It is also protected as the Haputo Ecological Reserve.
In Dededo you can also visit to the Guam National Wildlife Refuge at Ritidian Point. It has a visitor's center, another ancient Chamorro village and a pristine white sand beach with lots of shade for picnics and barbeques under groves of coconut trees.
If you have children, then living in Dededo will be perfect. The village has an 11,000 square foot skate park, a branch of the Guam Public Library, a community swimming pool, as well as many private and public schools.
If you seek urban sprawl, then the village of Dededo is for you. If you are an investor looking to develop a residential housing project or embark on a new retail commercial venture, Dededo is one of the fastest-growing villages on Guam. Either way, we at Pacific Rim Realty stand ready to help you achieve your real estate goals.
Scroll through all the property listings in Dededo. If you have an inquiry, please use the contact form below and we will get back to you shortly. Your privacy is important to us. Your information will not be shared, sold or exchanged with anyone else.
PROPERTY LISTINGS IN DEDEDO
All properties are subject to prior sale, exchange or withdrawal. Neither listing broker(s) nor displaying broker, nor the GUAM ASSOCIATION OF REALTORS, INC. Multiple Listing Service shall be responsible for any typographical errors, misinformation, or misprints. Copyright 2020 GUAM ASSOCIATION OF REALTORS, INC. Multiple Listing Service. All rights reserved.
---