Mangilao, Guam Real Estate, Village of Mangilao, Guam, Real Estate in Mangilao, Guam, Land for Sale Mangilao, Guam, Homes for Sale Mangilao, Guam, Properties in Mangilao, Guam
Mangilao, Guam Real Estate – A Melting Pot of Higher Education
The central Village of Mangilao, with an estimated 13,476 residents, is home to the island's only three institutions of higher learning and where you can see spectacular sunrises over the deep blue Pacific Ocean.
In Mangilao, you can enjoy local food, barbeque, pastries and novelties Thursday nights at the Mangilao International Market Place. There's also the Annual Mangilao Donne' Festival, a carnival like event featuring the hottest peppers on the island used in cooking competitions. The festival also features local produce, plants and of course a wide array of pepper plants for sale.
For the adventurous, you can trek down to Marbo Cave, a freshwater cave on the coast and bring your snorkeling gear along so that you can take a dip and explore its refreshing clear waters. Pagat Cave on the coast also beckons as it has a deep freshwater pool as well. Pagat Point is the wild rugged cliff in the photo. Another interesting scenic spot in Mangilao is named Thousand Steps. It features panoramic views of the Pacific Ocean. It is public access to the beach below through Mangilao Golf Course.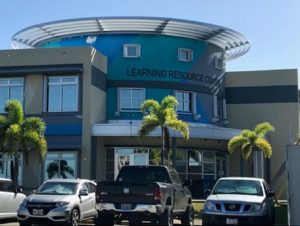 The Village of Mangilao is also a melting pot for higher education, as it is home to the University of Guam, Guam Community College and Pacific Islands Bible College. Accredited by the Western Association of Schools and Colleges, the University of Guam offers thirty-four undergraduate degree programs and eleven master's degree programs. Guam Community College continues to expand over its 32.75 acre campus with new modern classrooms and learning centers. Pacific Islands Bible College offers transformational Christian higher education and ministry training.
The village center is located along Route 10 where you can find many business establishments, local and franchise restaurants, American Medical Clinic, Bank of Guam and Payless Supermarket.
Real estate in Mangilao is mostly residential and rural agricultural with supporting retail and commercial properties. Mangilao is a very ethnically diverse community. Many in the military choose to stay in Mangilao's upscale residences, while many islanders choose Mangilao because of the affordable apartments, condominiums and homes that can be found here.
At Pacific Rim Realty, we can point you to affordable housing as well as executive high-rise condominium living at Ladera Tower, which overlooks the Pacific Ocean. The village of Mangilao is also a great central location for more affordable and mid-range residential development. Whether you are a serious investor or you're just looking for that perfect starter home, let us help you with your real estate needs.
Scroll through all the property listings in Mangilao. If you have an inquiry, please use the contact form below and we will get back to you shortly. Your privacy is important to us. Your information will not be shared, sold or exchanged with anyone else.
PROPERTY LISTINGS IN MANGILAO
All properties are subject to prior sale, exchange or withdrawal. Neither listing broker(s) nor displaying broker, nor the GUAM ASSOCIATION OF REALTORS, INC. Multiple Listing Service shall be responsible for any typographical errors, misinformation, or misprints. Copyright 2020 GUAM ASSOCIATION OF REALTORS, INC. Multiple Listing Service. All rights reserved.
---