Piti, Guam Real Estate, Village of Piti, Guam, Real Estate in Piti, Guam, Homes for Sale Piti, Guam, Land for Sale Piti, Guam, Properties in Piti, Guam
Piti, Guam Real Estate – Breathtaking Scenery in the Village of Piti
Piti is nestled along the western shore of Guam, roughly just two miles long and two miles wide. There are an estimated 1,585 residents who call Piti home. It is a highly sought after village that features the main village urban subdivision, as well as clusters of prominent hillside homes and vacant lots.
The commercial port of Guam is also found in Piti's Apra Harbor, which makes it a port village vital to the trade and commerce of the island and a key transshipment hub of the Pacific. Just south on Marine Corps Drive is Polaris Point and U.S. Navy Base Guam, making Piti and the neighboring village of Asan a perfect place for those in the military looking for off-base housing.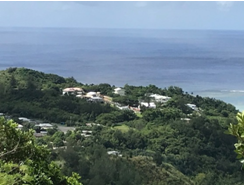 Real estate in Piti consists mostly of single-family residential homes and lots, rural agricultural lots and some commercial and industrial properties. There are many hillside view properties and small beachfront properties as the village faces the Philippine Sea.
Rising high a top Piti is Nimitz Hill, named after Admiral Chester W. Nimitz, who played a major role in World War II as Commander in Chief of the U.S. Navy Pacific Fleet. Once home to Admiral Nimitz, Nimitz Hill is now where there are many striking contemporary homes and vacant lots with panoramic ocean and breathtaking city views.
Ocean Summit Drive, Mama Sandy Road, Turner Road and Spruance Drive feature many lovely homes, future home sites and larger lots with potential for residential development. Nimitz Hill Estates subdivision and Nimitz Towers Apartments are also popular places to live.
Also a small seaside village is neighboring Asan, located just north of Piti, along Guam's main highway, Route No. 1, Marine Corps Drive. Asan features many prestigious homes with ocean and city views.
Lovers of the water will definitely enjoy Piti and Asan as you are close to some of the best underwater sights Guam has to offer. Fish Eye Marine Park is your gateway to the breathtaking waters. You can stroll on the one thousand foot long boardwalk known as Two Lovers Bridge as you make your way to the underwater observatory located at Piti Bomb Hole. At the observatory you can stay dry while looking at fish and divers swim past. For an introduction to life under the sea you can also try Seawalker Tours where you don a helmet and walk on the bottom of the sea, or you can view the fish and divers from a submarine at Atlantis Guam, located in Apra Harbor by the Marianas Yacht Club and Port Authority Beach.
Piti is also a diver's dream. You can dive Piti Bomb Hole, you can also dive the famous wrecks of the Tokai Maru and SMS Cormoran. These shipwrecks located in Apra Harbor, have a unique history and were featured in the popular television program 'Deep Sea Detectives' on The History Channel. Advanced divers should also explore the Blue Hole, which opens up to show you sharks, fish, and sea turtles gracefully enjoying the deep.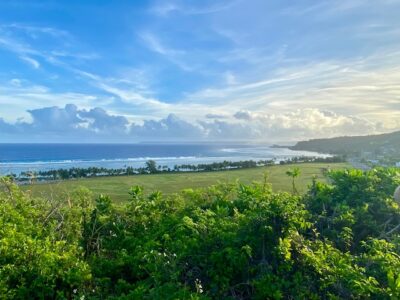 Above the water you can visit War in the Pacific National Historical Park where you can find Piti Guns. These three Japanese guns are historical remains from World War II. Also popular in the park is a 1-mile long running/walking course. Another great spot on the coast for a picnic or barbeque is the newer Tepungan Beach Park. Other village attractions include Santa Cruz Shrine, Guam Veterans Cemetery, and Sigua Falls below Mt. Alutom.
Purchasing real estate in this area is definitely a dream with all there is to see and do above and below the sea.
For serious investors, there are still several parcels of land available in the area suitable for upscale residential development or if you're just looking for that perfect home or vacant lot to build a home, we at Pacific Rim Realty, will be happy to assist you.
Scroll through all the property listings in Asan and Piti. If you have an inquiry, please use the contact form below and we will get back to you shortly. Your privacy is important to us. Your information will not be shared, sold or exchanged with anyone else.
PROPERTY LISTINGS IN ASAN AND PITI
All properties are subject to prior sale, exchange or withdrawal. Neither listing broker(s) nor displaying broker, nor the GUAM ASSOCIATION OF REALTORS, INC. Multiple Listing Service shall be responsible for any typographical errors, misinformation, or misprints. Copyright 2020 GUAM ASSOCIATION OF REALTORS, INC. Multiple Listing Service. All rights reserved.
---